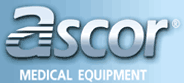 ASCOR was established in 1993 and has already established a solid position among the leading manufacturers of syringe pumps and positive displacement infusion pumps.

From the beginning, the key to our success has always been providing our customers with high quality, safe and reliable equipment at a reasonable price. Thanks to the simple and perfectly balanced philosophy focused on customer satisfaction and patient safety, we have successfully launched our products in over 50 countries around the world and the list continues to grow. .

Export volume exceeds 50% of total sales The quality of our products is guaranteed by certified quality management system in accordance with ISO 9001: 2008 and ISO 13485 :. 2012 Research & Development Team ASCOR makes every effort to continually improve our products and production processes with new technologies, new features, more sophisticated testing procedures, more safety features to meet growing demands of the market. The growing number of satisfied customers is the best proof of ASCOR's success.