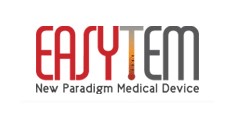 Easytem is a developer and supplier of high quality infrared thermometers and innovative thermal imaging technologies. We are committed to bringing you industry leading solutions that enable easy operation and fast and accurate results.

With state-of-the-art thermophiles and "thermal tables" Easytem's technologies, reliable and efficient health care devices, heat detection systems and industrial-grade temperature monitoring devices are guaranteed to improve any health, safety and safety management regime, whether you need to take your child's temperature, detect the presence of human animals or in a specific place for different uses, including the power automatic on / off switch, or the temperature of the heat-sensitive equipment monitoring such as power transformers, you can confidently rely on Easytem.

The home care products offered by Easytem include infrared ear thermometers, ear-rings and the front of non-contact infrared thermometers and infrared thermometers.

In addition to our leading home care products, Easytem specializes in the research, development and innovation of our exclusive Thermal Array technology. Our efforts include FeverCAM VT-1000, which can be applied in various fields: remote fever detection in public spaces, safety monitoring, fire detection, overheating detection of equipment, etc.

Our goal is to continuously innovate our state-of-the-art thermometry technology and deliver high quality products and best value to our customers.